By Milo Zwemmer, UX designer
---
Posted on February, 2022
---
It sometimes seems difficult to make yourself visible on online sales channels with thousands to millions of sellers, such as Bol.com or Amazon. Yet there are ways you as a seller can rank organically with your products. You can do this by keeping the SEO and content organized. Therefore, in this article we share some tips that are relevant to each platform and help boost conversions. Then you can focus on other factors that can generate higher sales, such as delivery time, reviews and price.
1. Give your articles a relevant product title
Getting SEO (Search Engine Optimization) right starts with choosing a good title for your product. The art of a good title is in the right formula and description of the product so that you can be easily found. Use the title for more than your exact product name. For example, include some other relevant words, terms and main categories. Think about the functionalities, dimensions, colors and other distinctive product features. This way, your product will show up as a result for more searches and be found by a broader target audience.
How to discover keywords
Keywords focus on the most important search terms of potential customers. Curious about which keywords you can use for your product to rank better in search results? Use FiveX's research tool to see which keywords are relevant to your product. This research tool contains data from the most recent search data. You can use the search terms function to determine the most popular keywords for your product. You can then use these keywords to improve your product title.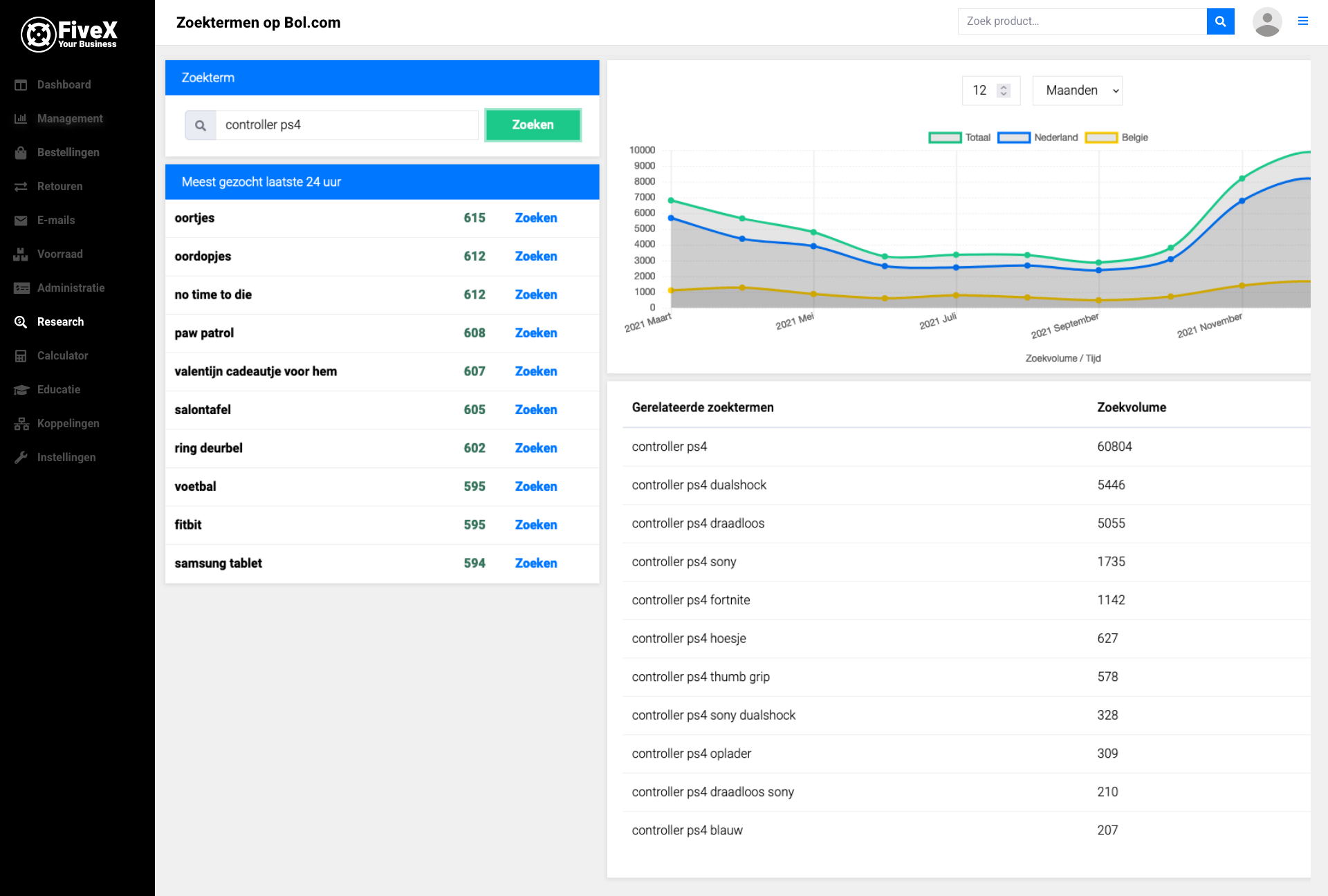 2. Optimize product descriptions
Optimizing product descriptions is a great conversion booster for your products. By making your product description as complete as possible, informing the customer as fully as possible and responding to the needs of the customer you increase the chance of a sale many times over. Think for yourself why the product will make the customer's life easier and what features it mainly has to offer.
Keep in mind that not every sales platform uses descriptions for search results. For example, Bol.com does not, but Amazon does. If you are selling on Bol.com, make sure that your description matches the buyer's requirements, this can only have a positive effect on the consideration whether or not to purchase the product.
3. Images are decisive
What most people look at while scrolling through search results are the product images. Therefore, it is extremely important that your product image stands out enough and is of high quality. Most sales platforms require you to give a product a main image, other images are often not required. The main image should often contain nothing but a clear picture of the product. This makes it even more important that you make the difference with the additional images. These additional images determine your conversion rate enormously and the use of, for example, atmospheric images can convince buyers to make a purchase.
4. Link product families within the product page
If you are selling a product that you also offer different colors, sizes and variants, make sure that all those variants are well linked together. This way, users can click through all your products within your product page. This way you create more traffic and keep customers with your products.
5. Use reviews to persuade
Product sales can be boosted by displaying reviews. Many good reviews, through the power of social proof, make visitors more likely to be convinced to purchase a product. The more positive reviews the heavier the effect of social proof.
How do I generate more reviews on my products?
It is still sometimes quite difficult to get customers to leave a review after making a purchase. Fortunately, there are ways to still generate more reviews. One of these ways is by using FiveX's email automation tool. Members who use the automated email campaigns get an average of six times more reviews on products.