Boost Your Product Reviews! - Automatic Email Tool from FiveX - Sell Via Bulb
by Maikel van Geffen
---
Posted on 15 August, 2020
---
How do you still make sure to leave your competition behind and dominate Bol's rankings? In this article you will read the Automatic Email strategy used by the best sellers on the Bol platform. From parties that turn over tons to even millions of euros per month.
As many know, reviews on your listing increase conversion. Social proof is a must in E-commerce and with many reviews you clearly show the customer that you like the product. When buying online, consumers can be a little suspicious because they cannot see the product for themselves.

With many reviews (both positive and negative) you give your customers a better picture of the product and you can win their trust. In short, you need reviews to play with the big boys.
But how do you get more reviews on your products?


You can only get reviews if a consumer takes the time to go to your product page, click on write review and then leave a review. Pretty cumbersome if you ask me. Ask yourself how often you specifically take the time to go to a website again, look up that product again and then take the time to leave an extensive review. Well, at least I don't very often.
How convenient would it be if, with the click of a button, the consumer goes directly to the review page of your product and only has to type a review? Trust me, extremely convenient! With FiveX's automatic email tool, you'll get up to 6x more reviews!

FiveX offers you the chance to get product reviews going times 6 (!) with its automatic built-in email system, which is linked to the Bol sales account
No FiveX account yet? Start a FREE 10 day trial now! Sign up through this link:
You can set up an automatic email series for each product you sell that the customer receives after making a purchase.
You can use the automatic email tool for several things:

1. You avoid customer questions by putting a detailed description in the email or an E-book. An example is solar LED lighting. In summer you have more light, so it burns longer, while in winter the lighting gives less light because there is less sun. Explain this in the automated e-mail so the customer is aware of this. That's extra service.
2. The second benefit is reducing returns. To do this, you first need to see what the common return reasons are. And with that information, you can advise customers on the product to reduce returns.
3. Being in more direct contact with your customer strengthens the customer relationship and increases customer satisfaction. After all, it is nicer for the customer to receive an e-mail from the company where he or she bought the product, rather than a general employee of Bol.
In the overview, you decide what kind of e-mail to send the customer. From thanking them for a purchase to asking for a review.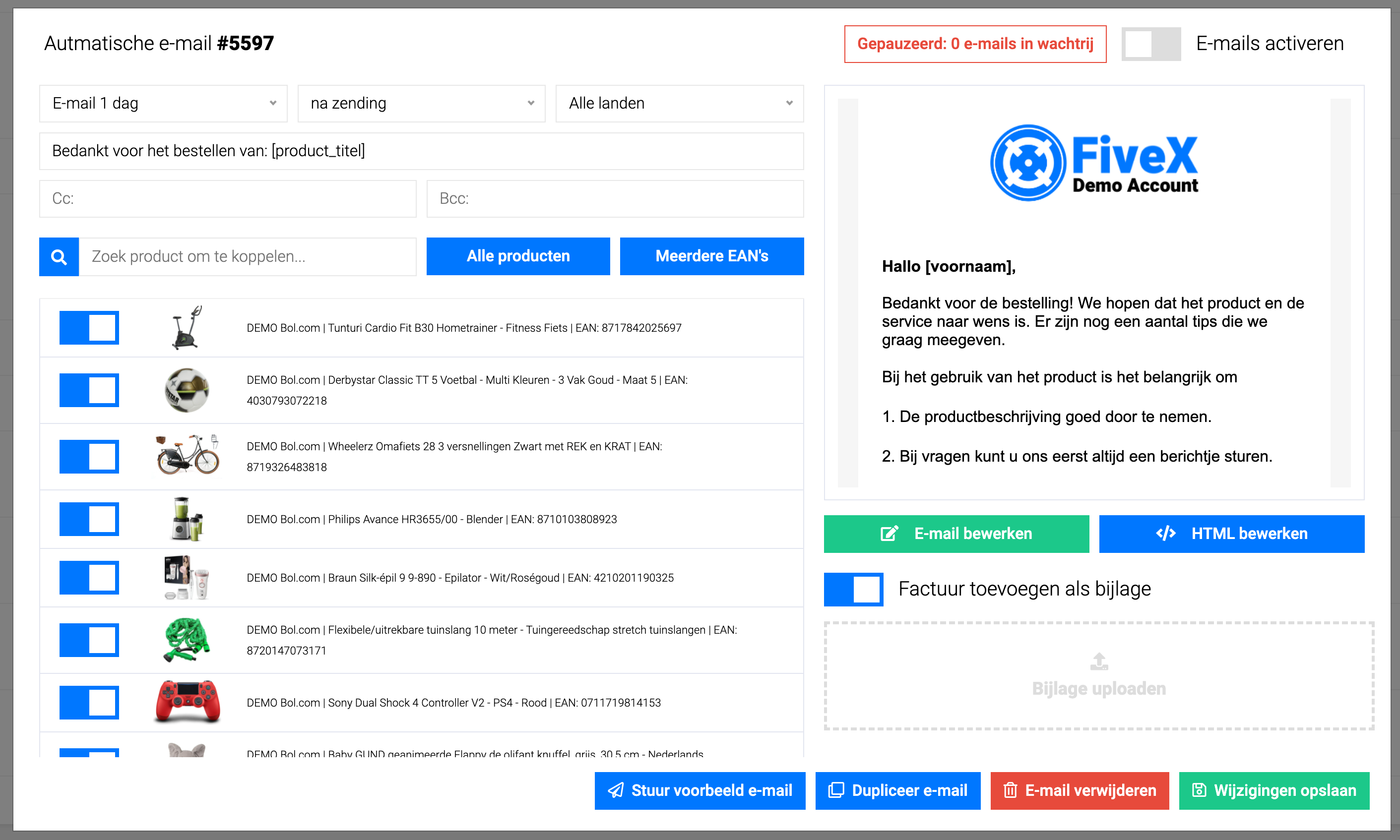 By setting up these automatic emails, we see that product reviews are written 6 times more often! So this tool has become indispensable among advanced sellers.
The amount of reviews plays a major role in customer buying behavior. A product with 200 reviews is simply viewed more than a product with 3 reviews.
It is also possible to place the sales invoice in the mail. You do this by clicking on the 'Invoice in attachment' bar.

You can link multiple products to the same email for when you want to send a general email. Before you send the automatic email to your customers, you also have the option to send yourself a test email first.
Set the customer to receive an email immediately upon purchase (for example, if an E-book is included with the product). Or send the email only when the customer has received the product. You can decide which email strategy to use. Just be sure to stick to the communication rules used by the Bol partner platform.
Start a 10-day FREE trial on FiveX now and have your reviews increase automatically!